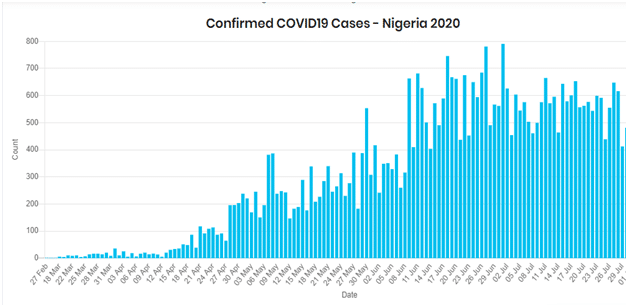 In the month under review there have been many changes in regards to the COVID-19 pandemic and the Nigerian response to the situation. In every situation and challenge, the results will justify the actions taken and in this case the government and health officials must be doing a large number of things correctly because the number of infections and mortalities from the disease remain relatively low in comparison to other countries.
This a particularly welcome surprise since prior to the pandemic, Nigeria was known both locally and in the larger international community for their poor and dismal healthcare sector. Malaria remains endemic, a Lassa fever endemic is ongoing and Nigeria ranks second in regards to high maternal mortality 814/100,000 (approximately 1 out of every 100 women die in childbirth). Average life expectancy for men and women in Nigeria remains at 56yrs ranking 188 out of 191 countries. This low life expectancy in Nigeria has played a key role in the statistical indices of this pandemic.
The Nigeria Center for Disease Control – NCDC reports indicate that the highest incidence of the disease is in 31-40 yr olds, however those over 60 account for the majority of deaths, this is in keeping with global data. Nigeria's challenged health care system and low average life expectancy seem to have deprived the pandemic of the elderly fertile ground to exert its maximum havoc, thus leading to lower than expected fatalities.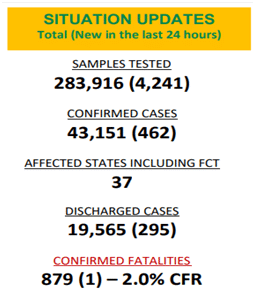 July recorded the highest number of new infections according to the NSCDC with 790 cases recorded on 1 July
.However from mid-July a trend of steady fluctuating decline in new cases as seen on the chart has been observed. This has led to further lifting of precautionary measures that were put in place in the early stages of the lockdown and pandemic response, namely;
The final exams for Senior Secondary and Junior Secondary School students are around the corner and the governme
nt has taken the bold step of reopening schools for SS# and JSS3 students in preparation for their exams, to take effect 4 August, 2020. Stringent conditions of physical distancing, running water at multiple points,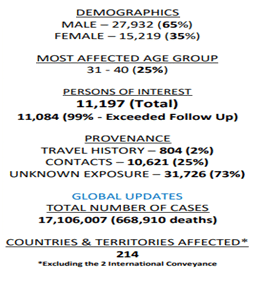 hand sanitizers etc are required of the schools and government inspection teams have been mandated to visit all schools and ensure compliance
Religious houses of worship have been given leave to reopen as from 14 August.
Similar requirements have been placed on them, in particular physical distancing by receiving only 50% of their usual attendance. How this requirement is to be implemented and compliance ensured, is yet to be seen.
On July 7 a few airports were reopened for local flights only and at the time of this report most of the local airports in the country have returned to full operations. They worked closely with NCDC, FAAN and other agencies to implement new guidelines to ensure zero to minimal risk of transmission of disease. Inflight services have been stopped and access to airport terminals and halls is only for intending passengers. However, international flights have not resumed and no clear dates have been set.
In Lagos state, non-essential markets continue to operate on alternate days, and the curfew is still in place. There are now more testing centers around the state in all LGAs, however se
veral isolation centers have been shut down or are being prepared for closure. Event centers, bars, hotels etc remain under restrictions and do not operate at full capacity.
In the general population the virus is no longer a novelle phenomenon and complacency has set in with compliance to health guidelines. The popular Danfo – yellow buses, have returned to loading at full capacity. Wearing of masks is not complied with fully and life seems to be returning to a new normal.
On the global scene the pandemic continues to be a serious challenge with USA, Brazil, India and South Africa currently the worst hit countries, however, health services in South America, UK, Phillipines, etc are also increasingly overwhelmed with some countries reinstating previously lifted lockdown measures. The virus remains a deadly threat and we recommend;
.  Wash hands regularly or use a hand sanitizer.
. Avoid touching your face, eyes, nose or mouth.
. ALWAYS Use a facemask if you must go outdoors.
. Avoid crowded places and always maintain a distance of at least 3ft (1m).
. If you have a cold, sneeze/cough into your elbow or a clean tissue, then dispose immediately and wash hands.
. If you have symptoms of COVID-19 (fever, cough, sneezing, difficulty breathing) call the emergency numbers, do not go to a hospital unless advised.
. Keep up to date on the latest information from your local health authorities.