The world has been under the grip of the COVID-19 pandemic for 8 months since the disease was first reported in China late December 2019. Unanticipated rapid transmission of the little known disease was further complicated by increased global travel connectivity that soon led to a worldwide spread of the virus, leading the WHO Director General – Dr Tedros Ghebreyesus on March 11, 2020, to declare the disease a pandemic with worldwide reach and global health implications.
On February 27, 2020, the first case of the disease was confirmed in Nigeria from an Expatriate who had already spent some days in the country and had travelled between states, having multiple contacts along the way. By March 30 the Federal government had declared the situation and emergency and put the country on lockdown measures.
These measures were broad reaching and had to be extended over the months to ensure adequate control of transmission and enable the government rapidly upgrade their testing and treatment capabilities. There has been a measure of success in achieving their set objectives and since June lockdown regulations are gradually being eased. More details on this are available in our previous reports.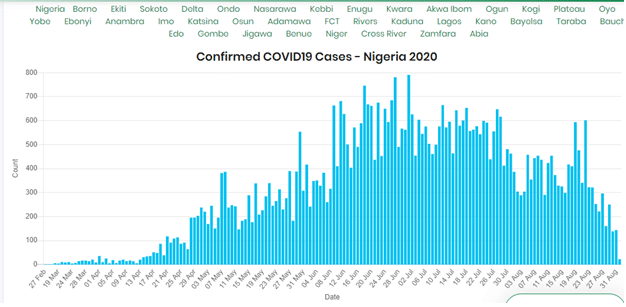 In the month under review, there remained a steady decline in the number of new cases and experts are of the opinion that the disease has peaked and is on the decline, this along with the ailing economy, has encouraged the government to gradually reopen all key segments of the economy.
Some key measures taken include;
Secondary school students in JSS3 and SS3 were permitted to return to school for preparation and writing of their final West Africa Examination Council – WAEC exams. Stringent guidelines were put in place by the education ministries before this was implemented
Restrictions on Interstate travel have been fully lifted
All major local Airports have resumed full flight operations. The Federal government earlier announced resumption of international flights to and from countries with no bans on flights from Nigeria, to start on August 29, but later reviewed that date to September 5, 2020.
Restrictions on closing times were reviewed, with Banks now working optimally, however most supermarkets continue to close by 8pm.
On August 29 the Lagos state governor Mr Babajide Sanwo- Olu gave the go ahead for eat-in services to resume at Fast-food restaurants.
While the reports and figures from the Nigeria Center for Disease Control – NCDC are encouraging, many continue to question their veracity as a reflection of the true picture. One thing is sure though, it would be next to impossible to conceal the level of increases in mortality that COVID-19 is able to cause. The global picture is however much more dire, with several very hotspots on every continent. The most severely affected countries continue to be the USA, India and Brazil, whose combined figures account for 50% of infections and deaths.
Interestingly, the race to create a vaccine is going on, with Russia controversially rushing to the forefront on August 11, by declaring that it had a vaccine ready and would be commencing large scale human trials. Some countries eg Venezuela, India, have already expressed keen interest in getting the vaccine which has been named sputnik V by the Russians.
It is therefore very clear that the virus remains a viable threat the safety of the health of Nigerians and the economy of the country.
Despite the number of infections declini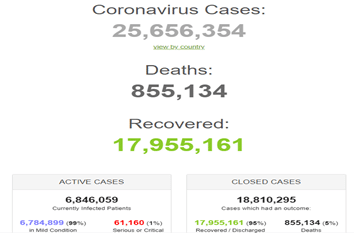 ng locally, with the imminent recommencement of international flights, Nigerians need to remain ever more vigilant and comply with government guidelines, namely;
.  Wash hands regularly or use a hand sanitizer.
. Avoid unnecessarily touching your face, eyes, and nose or mouth.
. ALWAYS Use a facemask if you must go outdoors.
. Avoid crowded places and always maintain a distance of at least 3ft (1m).
. If you have a cold, sneeze/cough into your elbow or a clean tissue, then dispose immediately and wash hands.
. If you have symptoms of COVID-19 (fever, cough, sneezing, difficulty breathing) call the emergency numbers, do not go to a hospital unless advised.
. Keep up to date on the latest information from your local health authorities.